Online
We have 12 guests online
Professors
Piano
Chiara Bertoglio was born in Turin in 1983, and began her piano education in 1986. She studied with Maria Rezzo, Ilonka Deckers, Emmy Henz-Diémand, Paul Badura Skoda, Sergio Perticaroli, Eugenio Bagnoli and Konstantin Bogino. In 1999 she graduated at Turin Conservatory with the highest score, with distinction and with honours. At the age of 17 she obtained the Swiss Diploma of "Virtuosité" with honours, followed in 2003 by the highest Italian degree (Accademia di Santa Cecilia in Rome), with distinction. She was the youngest woman ever to obtain this degree. In 2004 she was awarded the Fellowship at Trinity College London and a Master's degree in 20th-century Musicology at the University of Rome. In 2006 she obtained an MPhil in Musicology at the University of Venice with distinction. In 2012 she obtained a PhD in Music Performance Practice at the University of Birmingham (UK). She also obtained a Master's Degree in Theology at the University of Rome, with distinction, in 2008, and an MA in Systematic Theology (University of Nottingham, 2016), with distinction. She took part to piano and chamber music master classes given by A. Lonquich, E. Henz-Diémand, K. Bogino, A. Ciccolini, C. Zacharias, M. Voskressenskij, L. Fleisher and P. Badura-Skoda.
Following her first piano recital, at the age of 8, Chiara Bertoglio performed extensively in Europe, USA and Middle East, in venues including the Concertgebouw in Amsterdam, London's Royal Academy (Messiaen Festival 2008) and the Royal College of Music, Salzburg (Mozarteum), Warsaw (Chopin Institute), Rome (Academy of S. Cecilia, Rome Philharmonic, Vatican City etc.), Florence (Maggio Musicale Fiorentino), Montepulciano ("Cantiere"), Perugia (Sagra Musicale Umbra), Mantova (Trame Sonore), Cervo (Festival), Palermo (Politeama), Turin (including MITO Settembre Musica, Unione Musicale, Polincontri Classica), Milan (Società dei Concerti, Conservatory etc.), and festivals including "Festival Mozart" in Rovereto, "Opera Barga", "Imago Sloveniae", "Wörthersee Classics" etc.
In 2005 her performance of a Mozart Piano Concerto at Carnegie Hall, with Leon Fleisher and the Curtis Chamber Orchestra, was greeted by The New York Times with words of appraisal. She performed in Italy, France, United Kingdom, Germany, Mexico, Switzerland, Austria, Poland, Israel, Denmark, Norway. The Netherlands, Slovenia, Montenegro, with live and recorded broadcasts on radio and TV (including RAI, Canale 5, Radio3, Radio Vaticana, ORF, AVRO Klassiek, Polish and Slovenian Radio and TV, Sat2000 etc.).
Following her debut as a soloist with orchestra, at the age of eight and with Ferdinand Leitner, she performed solo concertos in Italy, Germany, The Netherlands, Denmark, Norway, Austria and Switzerland, with, among the others, Rome Symphony Orchestra, European Union Chamber Orchestra, Curtis Chamber Orchestra, Orchestra Filarmonica Italiana, Aargauer Symphonie Orchester, GAMS Ensemble, Ensemble Le Musiche, Orchestra Sinfonica Giovanile del Piemonte and many others, with conductors such as Francesco La Vecchia, Claudio Maria Micheli , Andrea Oddone etc.
She was awarded the First Prize at numerous competitions, including Muzio Clementi – Kawai, Franz Schubert, Schenk-Stiftung 2000, Forum pianistico internazionale di Chioggia 2003, XIII Concorso Pianistico Internazionale "Vanna Spadafora" and many others, including the "2000 Best Italian Graduate of the Year". She was also awarded the "Orpheus" and "Bruson" medals for her artistic accomplishment; in 2016, she was awarded the Prize of the Pontifical Academies (Holy See) for her artistic merits.
She recorded many CDs; one of them was published by Panorama (two Mozart Piano Concertos for the 2006 celebrations with the Italian Philharmonic Orchestra), and anotherby Brilliant Classics (Respighi's Toccata for solo piano and orchestra with Rome Symphony Orchestra). Further two albums were published by "Velut Luna" (Schubert's complete Impromptus, and "Mors&Vita", with works by Mussorgskij and Messiaen, both issued in 2012). Upcoming projects include a multi-CD set on Bach and Italy, for Da Vinci Osaka Records, the first volume of which has been issued in 2018.
She is an appreciated chamber music partner; among the others, she played with Konstantin Bogino, Marco Rizzi, Claudio Ronco, Elena Denisova, Cristiano Gualco, Giovanni Ricciardi, The Gustav Mahler Ensemble etc.
Following her first book on musicology, about Mozart's piano and opera music (Voi suonate, amici cari, Marco Valerio, 2005), other volumes appeared for Effatà, including Musica, maschere e viandanti (2008, about Schubert and Schumann's philosophy), Logos e Musica (2009, about the Christ in selected musical works), Per Sorella Musica (2009, about the Canticle of the Sun in 20th-century music), Through Music to Truth (2016); her most recent monograph, a 800-page book on music and the sixteenth-century Reformations (Reforming Music) has been published in 2017 by De Gruyter and won the 2018 RefoRC Book Award.
She wrote musicology articles that were published by "Early Music", "Musica e Storia", "AAA-TAC", "Atti dell'Istituto Veneto di Scienze, Lettere ed Arti", "Divus Thomas", "British Postgraduate Musicology", "TRANS", "Archivio Teologico Torinese", "Quaderni del Centro di Richerche Storiche di Rovigno", "Reportata", "Logoi", "Tolkien Studies". An essay by her was included in the Schnittke Anniversary Collection ("Schnittke-Studien"). She authored several lemmas for the Encyclopedia of the Bible and its Reception (De Gruyter).
She presented papers at many international conferences of musicology, including the "Purcell, Haendel, Haydn and Mendelssohn" conference in Oxford, the Messiaen festival at the Royal Academy of London and many others. She lectured for the University of Turin, at the University of Birmingham, and for other higher education institutes in Italy and abroad.
She was invited as a Guest Professor of piano at the International Festival of Maribor (Slovenia, 2006-08). Since 2007 she regularly lectures at the Summer School of the "Studio Filosofico Domenicano" University. She teaches at several State Conservatories in Italy (Turin, Milan, Bologna, Perugia, Novara, Lucca).
Piano & Piano Duet
Tatiana Šverko born in Pula, she studied piano with the professors: K. Kirac ( Music School "I.M.Ronjgov" Pula), G. Lovato (Conservatory "B. Marcello" -Venice), P. Rattalino, T. Zelikmann, V. Tropp, G. Specchi and G. Lovato (Academy Refinement Portogruaro) and J. Zlatar (Music Accademy Zagreb). Now she is enrolled to the Master in Teaching piano at the Ljubljana University. She carries out intense concerts in Croatia, Slovenia, Italy, Hungary and Germany. She has worked with orchestras: "L'Estro Armonico" (direrected by M. Mabilia), the Orchestra Fiumana (dir. M °. Modrušan), Orchestra "City of Trieste" (dir. M. Semeraro) and Orchesterverainigung Freyung-Germany (dir.E.Sagmeister) and training chamber, as harpsichord, with the complex Baroque "Solisti Istriani", in duo with flautist G. Blasco, Stojnić R., S. Stell, A.Musizza, C.Kobal, Piano duet with L. Angelini and A.Čuić (with whom she recorded a CD), with the sopranos A. Bossi, E. Matijašič, M.Prizzon, D.Del Monaco, clarinets G.Fonzari, B.Vatovec, with the Quartet "Malpera" and Alpe Adria Consort, Basler Kammer Ensamble VIVALDI and "Camerata polensis". She collaborated with the International Summer Music Festival Hortus Niger" Verteneglio. She has recorded live for TV and Radio Koper and National radio-HRT- Radio Pula.In 2009 has take a trasmission "Pola più-From the magic world of  opera". Since 1994 she has operated in the field teaching at the Centre for Studies of Classical Music "L. Dallapiccola" to Verteneglio and Pula, the State Schools of Music "I.M. Ronjgov" in Pula and in Rovinj. She won numerous international prizes of Contests: "Rovere d'Oro" St. Bartholomew al Mare/Imperia, "Paul Harris" Verbania, "Istria Nobilissima" Rijeka. It is a member of the Croatian musicians (HGDU).Several years she is made inquiries and promotion about istrian music patrimony. She is creator and artistic director of  project "Arena International" Music Workshop in Pula.
There are no translations available.
Nicola Mansutti
Dopo gli studi musicali presso il Conservatorio "J.Tomadini" di Udine si è perfezionato con il m° Fister (Klagenfurt), il m° Volochine e la m° Berinskaja (Portogruaro-VE),il m° Bogdanovich, il m° G.Guglielmo (spalla Orchestra della " Fenice" e Accademia di S.Cecilia), il m° Koch (spalla Orchestra Filarmonica del Lussemurgo) presso il Conservatorio del Lussemburgo, il m°Alessandro Moccia (spalla Orchestra degli Champs Elysées - Parigi), il m° Rabaglia (Trio di Parma), il m° R.Baldini (Hochschule di Lipsia). Ha coltivato l'interesse per l'analisi e la composizione seguendo i corsi tenuti dal m° Zanettovich. Ha approfondito aspetti di tecnica e prassi esecutiva antica frequentando seminari e corsi, in particolare per il violino barocco col M° S.Montanari (Accademia Bizantina), con il M° G. Fava (Sonatori della Gioiosa Marca) e per ensemble barocco con T. Koopman (Amsterdam Baroque Orchestra). Per diversi anni è stato i violinista della Venice Baroque Orchestra. Parallelmente, la dedizione allo studio del Novecento storico e alla musica contemporanea lo ha portato a prime esecuzioni di numerosi compositori tra i quali Solbiati, Silvestrini, Solares, Magnoni, Bloland, Sivilotti, Zanettovich, Miani, Perocco e molti altri.
In qualità di camerista ha suonato per numerose associazioni e rassegne in Italia ed all'estero, in alcune fra le più importanti sale da concerto nei seguenti Paesi : Austria (Musikverein, Konzerthaus - Vienna), Spagna (Teatro Nazionale - Madrid, Teatro Liceu - Barcellona), Francia (Salle Pleyel e Theatre des Champs Elysees - Parigi), Lussemburgo, Germania (Hercules Saal - Monaco), Olanda (Concertgebouw -Amsterdam),USA (Carnegie Hall- New York, Disney Hall- Los Angeles), Belgio, Slovenia (Zankariev Dom - Lubiana), Croazia, Polonia (Philarmonic Hall-Cracovia), Grecia (teatro Megaron-Atene), Repubblica Ceca (Rudolfinum - Praga), Albania, Romania, Canada, Tunisia , Egitto, Brasile (San Paolo-Memorial da America latina, Bélem-Teatro da Paz), Argentina (Teatro Coliseum - Buenos Aires), Cile, Uruguay (Teatro Solis - Montevideo), registrando per le etichette Agorà, Rivo Alto, RS, ArteSuono, Tau Kay, EpicMusic, Talents, Koinè records, Alfa Music, Rainbow Classics, Archiv, Deutsche Grammophone, SWR, RAI e Radio Televisione Catalana.
L' attenzione costante per la musica da camera l'ha portato a fondare il quartetto d'archi Pezzè, intitolato al compositore, didatta e musicologo Piero Pezzè, compiendo i propri studi di quartetto sotto la guida del m° F.Rossi (Quartetto italiano), del m° B. Baraz, del m° V. Berlinsky (Quartetto Borodin), del m° B. Giuranna e del Nuovo Quartetto Italiano , ottenendo riconoscimenti in concorsi nazionali e internazionali.
La sua natura eclettica l'ha portato a collaborare anche con "Cinemazero" di Pordenone e con la "Cineteca del Friuli" nella esecuzione dal vivo di alcune colonne sonore di film muti tra i quali
" La Sentinella della Patria "(primo film muto girato in FVG) pubblicato in CD/DVD e dal 2012 è il violinista del Quinteto Porteño, specializzato in tango-jazz (il recente disco "Rinascimento" distribuito da Egea ha riscosso un ottimo successo di critica e diffusione nelle radio nazionali). Sempre nell'ottica di conoscenza di nuovi linguaggi musicali ha partecipato a progetti con gruppi jazz e gospel fra i quali il "G.Venier Quartet", il "FVG Gospel Choir", registrando alcuni dischi (una fiaba musicale, il cd "Gorizia", ed altri).
Ha collaborato con numerosi ensemble e orchestre fra i quali, l'Orchestra del Teatro "G.Verdi" di Trieste, l'Orchestra Sinfonica del FVG, la FVG Mitteleuropa Orchestra, l'Orchestra d'Archi Italiana, l'Orchestra Filarmonica del FVG, l'Orchestra Barocca "Tiepolo", la Venice Baroque Orchestra, l'Ensemble Anticameraviglia, l'Accademia di S.Giorgio (VE), il NovArt Baroque Ensemble, l'Ensemble Mikrokosmos, il Nonetto "Stravinsky", l'Orchestra Filarmonia Veneta "G.F.Malipiero", La Nuova Orchestra "F.Busoni", l'Orchestra "Les musiciennes" del Lussemburgo.
| | | | |
| --- | --- | --- | --- |
| Natalija Čabrunić Pfeifer | | | |
Violin, chamber music and orchestra
The violinist Natalija Čabrunić Pfeifer was born in 1977 in Pula, Croatia, where she graduated in violin in 1995 at the High Music School Ivan Matetić Ronjgov and in musical theory department in 1996. In 1996 she started violin studies at the Music Academy in Ljubljana and in 2001 successfully graduated in the class of prof.Monika Skalar. Since 2000 he has been regularly employed as a member of SNG Opera and Ballet Ljubljana Orchestra in the first violins and in 2011 acquired the title "acclaimed orchestral musician".
Already at an early age she has performed solo as well as in chamber ensembles locally and abroad. She has played in the baroque ensemble Istrian soloists, Piano Quartet Pro et Contra, Duet flute/violin Pas de deux, String Quartet Rožmarin (concerts in Slovenia and Germany) and Trio Entuziastik for which she writes its own arrangements. She was also a member of chamber orchestras Pro Arte, Slovenicum and Camerata Slovenica. She regularly cooperates with numerous renowned orchestras at home and abroad as part of the Slovenian Philharmonic Orchestra, RTV Slovenia Symphony Orchestra, Orchestra SNG Maribor, Orchestra of University of Juraj Dobrila Pula, International Orchestra of Sarajevo and other orchestras with which they also play for charity.
As a soloist she performed with the Orchestra SNG Opera and Ballet Ljubljana and the City of Pula Wind Orchestra.
She writes her own arrangements for solo violin ,duet voice/violin, duet violin/bassoon, duet violin/viola, string trio and piano trio (piano, violin and flute).
She recorded music for various theater and puppet shows, rock groups, as well as movies in Slovenia and Croatia.
She is multiple-time winner of the International Competition Istria Nobilissima in Rijeka where she won the 2nd award in 2000 and received a special award for the best interpretation in 2002 and 2004.
She has been in several master classes with world-famous pedagogues and violinists such as Asja Koucher, Maja Dešpalj Begovic and Stefan Milenkovic.
She has performed as a solo violinist at a number of important openings of exhibitions of famous painters such as Vatroslav Kulis, Josip Racic, Leo Junek, and she has opened the evenings of poetry of known poets. She often plays as a soloist at the Prešeren awards and other awards and diplomas at Ljubljana faculties.
From 2004 to 2009 she taught violin at the Music School Fran Gerbic in Cerknica. Her enthusiasm and great love for the pupils was the key for success of her students which have regularly entered national and international competitions and received numerous awards and recognitions. In 2007 she received a special recognition from the mayor of the municipality Cerknica for successfully mentoring during the school year 2006/2007.
In 2008 she started another wonderful life journey, which in addition to the violin and her family further fulfills her heart and her personality can be completely expressesed. Her unique jewelery and hand-decorated glass vases in so far unknown technique fascinate and delight the proud owners of her jewelry over and over again.
She speaks Slovenian, Croatian, Italian and English. In 2014 she successfully graduated 3rd degree of Hebrew language via the Internet at the Academy for the Hebrew Language in Jerusalem. She also speaks French and Spanish.
Natalija Čabrunić Pfeifer is an artist who demonstrates with her career, character, strong temperament, enthusiasm for life and with her love for her hometown Pula ,that it is not difficult to realize wishes, if it is really what the heart wants.
Cello and Chamber Music
Dubravka Jančić was born in Zagreb in 1973. She graduated the piano in 1989 (studying with Prof. Ž. Milić) and the cello in 1992 under the tutleage of Prof. S. Prašelj, after which she enrolled in the Music Academy in Zagreb studying cello with Prof. Valter Dešpalj. During university she was a member of numerous chamber ensambles, from guitar duets to cello octets (Cellomania).  She took part in several  master classes conducted by Prof. D. Grigorjan, M. Steinkuller, and V. Dešpalj. In addition, she participated as a member of the Baroque Trio IDA for 10 years, with many appearances abroad and in Croatia. After graduation, she worked one year at the Ivan Zajc School of Music, and later at the Blagoje Bersa School of Music where, besides teaching cello, she leads the chamber music and primary school string orchestra. She transfers her love of chamber music to her students and together they have won numerous awards at regional and state competitions and performed at all major events of the School.  As of 2010 she is also a member of the Piano Trio Bersa.
Guitar & Chamber Music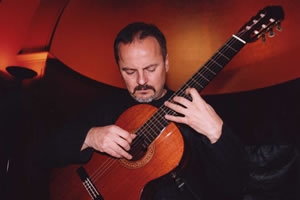 Žarko Ignjatović was born in Pula in 1961. Before joining the Academy of Music in Zagreb participate successfully in various competitions for young musicians. From 1981 he studied simultaneously in Zagreb and Graz (Austria) to the "Hochschule für Musik und darstellende Kunst" (high school music and applied arts). He has actively participated in numerous seminars and courses taught by world-renowned artists: J. Bream, J. Williams… In 1983 he graduated at Zagreb in class prof.D.Petrinjak . In 1987 he graduated with honors in Graz also in the class of 1995 complete of theprof.M.Bäuml Klasinc. During the postgraduate studies at the "Mozarteum-Hochschule für Musik und darstellende Kunst" in Salzburg (Austria) in the class of prof. E.Fisk. Since 1984 he has lived and has worked in Ljubljana (Slovenia), which continues his rich musical performing assets in many concerts and participating in various competitions. He teaches on the Faculty of Pedagogy of Maribor and the School of Music and Ballet of Ljubljana. Addition to perform solo concerts, collaborated with several chamber complex. Regularly he recodes for radio and national TV. Till now he has recorded 2 CDs as Soloist, and several in chamber music.
Romano Pucci
He studied with Silvio Clerici, graduating with honors from the Conservatory of Santa Cecilia in Rome. In 1980 he won the first prize at the International Competition of the Orchestra of the Italian Swiss Radio, confirming that he was a virtuoso among the finest and most versatile of his generation.
The well-known composer Goffredo Petrassi called him an "model performer", the newspapers wrote of him as"... a magic flute..." For many years the first flute of the prestigious Philharmonic Orchestra and of the Teatro alla Scala in Milan, he held concerts and produced operas and ballets in the most prestigious theaters in the world, working with the best conductors such as Muti, Abbado, Mehta, Kleiber, Prêtre, Maazel, Bernstein, Sinopoli, Barenboim, Chailly.
He is habitually invited as a soloist by important ensembles such as the Archi della Scala, and has performed in a recent concert with the famous soprano Mariella Devia.
He has participated in various television and radio shows on the Italian state television – RAI and abroad: he has been invited to perform as a guest at major events such as the "Gala-XLIV Silver Mask1995" and "Telethon 1996".
During the "Premio Nino Rota" (Rome 1997) he presented, alongside Oriella Dorella, a particular arrangement of the ballet "La Strada", while in the summer of 1998 he performed a tour in the most beautiful theaters in Sicily, such as the Greek Theatre (Taormina), the Theater of the Temples (Selinunte), starring alongside Luciana Savignano (both prima ballerinas of the Teatro alla Scala).
He was the musical protagonist in some of the productions of the Piccolo Teatro of Milan: "Letters by Mozart to the family" and "Torment circles around the heart" collaborating with great actors such as Franca Nuti and Giancarlo Dettori.
He is a professor at the Academy of the Teatro alla Scala and has been invited to hold Master Classes in Italy and abroad.
He collaborates as first flute with the Teatro dell'Opera in Rome.
Opera
Alessandro Svab, born in Trieste, he was eighteen when he entered his city chorus at Verdi Theatre. Svab makes his debut in 1985, in Rimskij-Korsakov's Mozart e Salieri. Afterwards he follows some specializing course at Accdemia Chigiana in Siena and attending courses on Mozart's vocal expression held by M° Claudio Desderi at Fiesole's Music School. His international debut has taken place in 1990 at International Britten Festival in Aldburgh (GB) in Pulcinella, Falstaff and Don Giovanni. In 1993 Svab won the XXV Toti Dal Monte International Competition as Conte Rodolfo in Bellini's Sonnambula. In the same year, he makes his debut in Milan at La Scala in Spontini's Vestale directed by M° Riccardo Muti. He's back for the first absolut perfomance of Tat'jana by C. Corghi directed by Peter Stein and afterwards in Donizetti's Lucrezia Borgia, staged by Hugo de Ana and directed by M° Renato Palumbo. His intense opera career has led Svab in Europe's most important theatres: Theatre La Scala and Arcimboldi in Milan, Opera Theatre in Rome, Accademia of Santa Cecilia,  Terme di Caracalla and Parco della Musica in Rome, Teatro Massimo and Verdura in Palermo, Comunale in Bologna, Regio in Parma, Teatro Bellini in Catania, Regio in Torino, Verdi in Trieste, Filarmonico in Verona, Carlo Felice in Genova, teathres in  Pisa, Modena, Ferrara, Reggio Emilia. Mantova..at the Festival in Aldeburgh, Wexford and also Hollywood, Tokyo, Osaka, Kyoto, Parigi, Berlino, Bilbao, Valencia, Lausanna...performing the roles of: Leporello, Figaro, Sarastro, Conte des Grieux, Sparafucile, Colline, Arnoldo, Timur, Silva, Attila, Banco, Oroveso, Bartolo, Don Basilio, Don Profondo, Alidoro, Nettuno, Nick Shadow, Escamillo, Don Pinto, Dulcamara, Geronte.., under the direction of many conductors such as: Ahronovich, Arena, Bartoletti, Bellugi, Campanella, Ferro, Gatti, Jacobs, Maag, Muti, Oren, Palumbo, Pidò, Ranzani, Renzetti, Santi...and directors: Abbado, Bertman, Brockhaus, Carsen, Cavani, Cox, de Ana, Pier'Alli, Pizzi, Plaza, Ripa di Meana, Stein, Vick. Since 1995 he started his teaching experience helding several lessons in Italy, Slovenia, Rep. Ceca, in 2005 he is a teacher in "Sichuan Conservatory of Music" in Chengdu China. In 2009 he established the Accademia Lirica Santa Croce in Trieste, where he covers both the roles of teacher and artistic director. The Academy goal is to give a debut chance to the opera title being studied. At the end of the educational phase, the Academy foresees to realize a bill of opera shows, joined by those members interested to continue the experience. In the current year has been signed a deal within the 'Ragazzi... all'Opera' project, that involves more than 3000 school pupils inside the region Friuli Venezia Giulia. The Academy year is structured in several study programs centred on opera titles. The 2009 – 2010 academic year's first program has staged Gianni Schicchi by G. Puccini, Le Nozze di Figaro by W.A. Mozart gaining wide critics and public success confirmed by 11 rerun. The second program has covered Christmas Carrols staged in December and January with a wind instruments orchestra, with 3 concerts.
SOLO Singing
Maria Grazia Biancolin graduated in Singing at the Conservatory of Music "A.Stefani" in Castelfranco del Veneto with M.i.Ferraris and Salimbeni and piano, at the "F. Venezza" Rovigo with M ° G. Lovato. She collaborated with the Coro del Teatro La Fenice in Venice, Milan at the Teatro Litta. She sang in the fourth Mahler's symphony. She worked as a concert soloist with the Orchestra and Chorus of San Marco Pordenone with Sacred music program. She has sung in various concerts opera, chamber and sacred in various Italian cities and all'estero. In the Operas 1990-'91 she debuted at the Teatro La Fenice in Venice in "Lulu" A. Berg. At the Workshop Theatre Baroque Music by the SMAV of Venice, which prepared premiere opera "Madoro" Lucia F. and A. Aureli and she debuted Role Princess Assyrian Miralba at Teatro Goldoni in Venice in 1992. In 1991 the competition lyrical national she was ranked in the fourth place. She participated then to the National Competition Messages to Sutri (Viterbo) and she was classifed between finalists. At the stage "Artis Musici" she interprets the role of Zerlina in "Don Giovanni" by Mozart. She collaborated with various orchestras: and other musical formations. She recorded the CD "Lipso" Act Lirico, P. and L. Magliaccio in collaboration with Menetto Venice Alata Association Foundation and Levi, the cassette tape of musician L. Grappasonno, CD Sacred Music with the organist P.Sagrillo. She carries out Lyrics Song teaching at the Music and Piano "Opitergium" Oderzo. In 2002 she sang in the Basilica of the Holy Oratorio "The glory hidden" to Kolbe. Since 2002 she has directed the dell'Opitergium Choir Festival.
There are no translations available.
Nastavnica glazbene kulture i talijanskog jezika, predavala je u vodnjanskoj Talijanskoj osnovnoj školi počevši od 1965. Diplomirala je muzikologiju i talijanski jezik pri ljubljanskom filozofskom fakultetu. Desetak je godina predavala glazbenu umjetnost u tadašnjoj Srednjoj talijanskoj školi (danas "Dante Alighieri"), te vodila je ženski zbor škole, i to vrlo uspješno. Vodila je nekoliko zborova, osnovnoškolski, minipjevače pulske Zajednice Talijana i od 1965. godine zbor Zajednice Talijana Vodnjan, mješoviti zbor Zajednice Talijana Vodnjan te već nekoliko godina ženski i mješoviti zbor Kulturno-umjetničkog društva "Lino Mariani" iz Pule. Sa zborovima je sudjelovala na brojnim nacionalnim i međunarodnim natjecanjima, za što je dobila priznanja za umjetničku vrijednost te prvu nagradu sa smotre zborova Talijanske unije za mješoviti zbor iz Vodnjana 1966.
Osim pedagoškim radom, bavi se i glazbenom kritikom (La Voce del Popolo) te muzikološkim istraživanjima (sudjelovala je na raznim simpozijima o najvećim istarskim skladateljima).
Brine se za muzikološki dio Arene International, glazbene radionice koje se održavaju još od 2002. pri pulskoj Zajednici Talijana.
Autorica je triju pjesmarica za talijanske škole iz Hrvatske i Slovenije te surađivala je u kreiranju programa za glazbeni odgoj za osnovne i srednje škole. Dobitnica je više priznanja za svoj pedagoški rad te didaktički je koordinator Centra za klasičnu glazbu "Luigi Dallapiccola" pri Talijanskoj uniji za pulsku sekciju, i to od njezina osnivanja 1991. godine.
There are no translations available.
Flauta i suvremeni mediji
Edoardo Milani je studirao klavir i flautu pri Glazbenom konzervatoriju G.Tartini u Trstu. Nakon toga diplomirao je studij Glazbe i nove tehnologije te Kompoziciju elektronske glazbe. Stalno surađuje s nekoliko Radio-televizijskim postajama kao RTV Slovenija, RAI (Državna talijanska radio televizija) i RSR kao programer-režiser i glazbeni urednik. Djelovao je kao glazbeni pedagog u raznim privatnim glazbenim institucijama. Trenutno predaje pri Glazbenoj školi u Kopru. Snimio je nekoliko nosača zvuka sa svojom glazbom.

Jezici: talijanski (***), engleski (***), francuski (**), slovenski (*)


Umjetnička suradnja u Areni International 2015

1 – radionice komorne glazbe manjih ansambla mladih instrumentalista (Intonacija, dinamika, analiza partiture, interpretacija, teknika disanja, itd...)

2 – radionica kompozicije elektronske glazbe za instrumentaliste (početni niveau) *

3 – radionica kompozicije elektronske glazbe za instrumentaliste (napredni) *

*kako pojačati instrument, upravljanje efektime, akustične potrebe u koncertnom prostoru, softwer za komponiranje i za live electronics

4 – radionica za Video-music
[na kraju svake radionice predstaviti će se rad polaznika]

5 – analiza i interpretacija flautističkog repertoara (početnički i srednji niveau)

6 – suradnja u orkestru i u komornim ansamblima

7 – video –dokumentacija i postavljanje on line naših događanja




Kvartet flauta Bora
Kvartet flauta BORA je komorni ansambl osnovan 2011. godine. Sastavljaju ga flautisti Paula Benčić, Claudia Martorel, Micol Mechi i Edoardo Milani. Različiti studijski perkursus utjeće upravo i na njihov odabir repertoara koji je svestran ali dosljedan: od baroka pa do pop glazbe, kroz suvremenu glazbu i jazza. Cilj takve ponude je približiti publiku na susret s flautističkim kvartetom.
Naziv "Bora" ima više značaja: 4. slova kao i početna slova imena glazbenika, ime vjetra Bura (...na tal.bora) koje je karakteristično za geografsko podrijetlo glazbenika i koje se nadovezuje na vibraciju zraka u flauti.
Laboratorio di interpretazione musicale elettronica per strumentisti e compositori
Anche nella musica si parla sempre più spesso di realtà aumentata ovvero di sistemi che incrementano il livello percettivo di uno spettatore. E' sempre più importante perciò per lo strumentista contemporaneo esercitare una certa padronanza anche sulla tecnologia più semplice per essere in grado di accedere a nuove possibilità espressive.
In questo modulo verranno presentati i principali sistemi che permettono anche al musicista inesperto in campo informatico di sperimentare in modo semplice e creativo queste nuove possibilità sia dal punto di vista della prassi esecutiva che da quello dell'elaborazione del segnale in funzione della creazione artistica. I corsi individuali rivolti a qualsiasi livello verranno personalizzati in base alla creatività del candidato: performance live, improvvisazione, composizione musicale elettronica, interpretazione di opere elettroacustiche già esistenti per il proprio strumento.
Edoardo Milani ha studiato pianoforte, flauto presso il conservatorio G. Tartini di Trieste dove attualmente è iscritto al corso di Oboe. Diplomato in musica elettronica e composizione videomusicale presso lo stesso conservatorio, si occupa di produzione musicale e radiofonica. Compositore e arrangiatore ha una lunga esperienza anche come didatta avendo lavorato per varie istituzioni private e recentemente presso la scuola di musica di Capodistria. Oltre alle varie esperienze internazionali (Università Pompeu Fabra di Barcelona e Conservatoire national supérieur de musique et de dance di Lione) è stato direttore tecnico del festival di musica contemporanea "Luigi Nono".
Composition
Laura Mjeda Čuperjani (1971, Belgrade) graduated from the Department of Composition and Orchestration at the Music Academy in Belgrade, in the class of professor Srdjan Hofman. Laura began her pedagogical work at Music High School "J. Slavenski "in Belgrade and later at the Music Academy in Belgrade. She has been working at the Music Academy of Juraj Dobrila University since 2007.
Laura's composing opus comprises of works for solo instruments, chamber ensembles, orchestral works as well as music for theatre plays and multimedia projects.
Her works have been performed in Croatia (Zagreb, Rijeka, Pula, Opatija, Poreč, Split, Daruvar, Varaždin) as well as abroad (Verona, Essen, Klingenthal, Gdansk, Mlawa, Paris, Ljubljana, Geneve, Moscow, Bari, Odessa, Belgrade, Podgorica, Prishtina, Argjiro).
She exhibited at the Panel "New Works" organized by SOKOJ - Music Information Center of Serbia in Belgrade, in 1998, at the First International Symposium of Music Educators in Pula with the theme "The concept of teaching harmony in education of a music pedagogue " as well as at the Second scientific - artistic conference of assistants of Juraj Dobrila University in Pula. She is co-author of the textbook Harmony on the piano.
She won the award "Vasilije Mokranjac" for the composition "Concerto" for a guitar and a Chamber Orchestra, special award for original music for choreographic project "Masses / Boulders" in Mediadance Festival (Paris) and the Rector's award for the contribution of the activities and development of the University of Pula. Laura Čuperjani is a full member of the Croatian Composers' Society and a Head of Music Pedagogy department at Music Academy in Pula.